A – Book vs. Movie – Agatha Christie's And Then There Were None
Blogging From A-Z.  It's been a few years since I gave this challenge a try and I'm excited to give it a go with a movie twist.
This is a semi-regular feature where I talk about which was better, the book or the movie.  Most of the time I don't know which will come out on top until I've worked my way through some of the criteria, and this is one of those times.  Let's see how it all pans out.
I listened to the 1939 novel a few years ago (interestingly narrated by Dan Stevens who I just saw today onscreen as a Beast in some fairy tale movie I may write about on Monday) and spent the last several evenings watching the most recent adaptation, the 2015 BBC mini-series.
The Story/Plot  It's the late 1930's and eight people are invited to a secluded island off the English coast.  Upon arrival they are greeted by two servants and the group quickly realizes that no one has actually met the hosts and the servants don't know when to expect them.  After dinner a record is played accusing each of them of horrendous crimes and the tension mounts as the murdering begins.
While being faithful to the spirit of the novel, the mini-series took great liberties in modernizing it for today's audience.  They added drugs, sex and swearing just to liven up the screen.  I don't think it really changed a whole lot, just added some nuance that wasn't there, so no harm, no foul.   Thumbs up…tie
The Visual Most movies have an advantage in this category and this definitely true here.  The island, the house, the weather of storms and fog all gave this a melodramatic, spooky feel.  Christie also accomplished this with her writing, but I do think the screen lit up the story.   Thumbs up…the mini-series.
Characters vs. Actors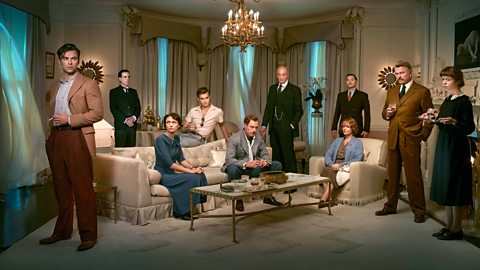 The cast was excellent and there is no fault to be found there, BUT in telling each of their back stories as the story progressed took some of the intrigue away.  And that's before you realize that the characters in the mini-series committed more horrifying crimes than those in the book.
I liked seeing Sam Neill and Toby Stephens as well as Kili from the Hobbit movies, and it was nice to see more evolved characters, but sympathy was lost along the way.   Thumbs up…the book.
The Ending The end result was the same but near the end there were a few changes made that were understandable but not preferable.    Thumbs up…the book.
And the winner is… the book.  This is the world's bestselling mystery novel and #7 of all novels, so it begs to be read.
Now it's your turn to vote
Other book vs. movie polls you can vote on: (The Girl on the Train)  (Northanger Abbey) (Me Before You) (Still Alice) (The Blind Side) (The Fault in Our Stars) (The Hound of the Baskervilles) (Gone Girl) (Jack Reacher) (Ender's Game) (Carrie, the original) (Under the Tuscan Sun) (The Secret Life of Bees) (The Shining, the original)
24 Comments »
I'm not sure why, but I don't do any of the challenges. And some of them seem like fun.
P.S. I thought Beauty and the Beast was really good. And even though I am a huge fan of Downton Abbey, I didn't recognize Dan Stevens, even after he became human again.

Comment by Lloyd Russell | April 1, 2017 |

I don't do too many anymore but this one is always fun (and time consuming!).

Comment by stacybuckeye | April 1, 2017 |

Great theme! Looking forward to reading more of your analyses in April.

@breakerofthings from
A Back of the Envelope Calculation

Comment by @breakerofthings | April 1, 2017 |

I watched the mini- series along with my sister who is a HUGH Christie fan. (Which is probably why I didn't read the book as she had already told me the entire story).

Comment by Bernadette Braganza | April 1, 2017 |

I thought my husband had read it and so spoiled the ending right when we starting watching it, lol.

Comment by stacybuckeye | April 1, 2017 |

I'm a Christie fan even if I see most of TV these days..

I'm at http://bit.ly/2olC3Hx today.

Comment by bobscotney | April 1, 2017 |

It's amazing that so many of her books are still being adapting for tv and movies.

Comment by stacybuckeye | April 1, 2017 |

I'll take Christie in whatever form she's offered. Nice post – happy A-to-Z-ing!

Comment by Deborah Weber | April 1, 2017 |

I never saw the mini-series but Agatha Christie is my hero. Great start to the A to Z. I'll be following!

Janet
A is for Adele

Comment by scr4pl80 | April 1, 2017 |

Thank! I checked out the movie from our library.

Comment by stacybuckeye | April 1, 2017 |

Oh my goodness. This is a fantastic theme. Well done you. I can't fill out the poll sorry as I am ashamed to say I haven't read the book. Nor did I know about the mini series. I hope I can find it and watch it as I like Sam Neill as an actor. I did see the play with my children probably 20 years or so ago. They were transfixed. Their babysitter was acting in the play and they were quite worried about her getting knocked off…From memory she lasted quite a long time! I have just finished reading the book based on the film The Lion starring Nicole Kidman, Dev Patel and David Wenham. Have you seen it? Have you read the book? It's called a Long Way Home. I'm having difficulty deciding which I like the better. The story is certainly big enough for the screen but I think I'm leaning towards the book.

Comment by Alex Daw | April 1, 2017 |

I took my mom to the And Then There Were None play last year and loved it. I love Sam Neill too and he doesn't last long enough! I haven't seen or read Lion, but I really want to see the movie. Tahnk for the engaging comment. This month will be fun 🙂

Comment by stacybuckeye | April 1, 2017 |

I've never read any of Agatha Christie's books. I'm going to have to remedy that!

Comment by clicksclan | April 1, 2017 |

I started not that many years ago. They are on the shorter side and smart. I'm a fa but I've probably only read half a dozen or so.

Comment by stacybuckeye | April 1, 2017 |

Not my favourite Agatha Christie and definitely not my favourite film adaptation of one of her books. I always enjoy both mediums. As you point out they bring different things to the experience of the story. I look forward to reading more of your analyses during the month. Regards Anne

A is for letter from Anzac
———-
Anne Young
Anne's family history

Comment by Anne Young | April 1, 2017 |

I haven't read this book or seen this movie but I almost always like the book better.

Comment by BermudaOnion | April 1, 2017 |

Interesting theme. I'm looking forward to seeing which books/movies you cover. I love most of Agatha Christies novels, and do enjoy the BBC adaptations, particularly of the Miss Marple and Pirot stories. However I have to say I really didn't like the book "And then there were none". It was so dark and depressing and it was hard to find a character to sympathise with. I haven't seen the BBC adaptation of it, but think I'll go hunting for it after your review and see if I like it any better.

To be honest, I think one of my main issues with the story is that I was in a one-act adaptation called "And then there was one" when I was in high school (age 14) that was a light-hearted, humorous story, so when the novel (which I read several years later) turned out much darker and more depressing I didn't like it!

Good luck with the challenge
Ros from Fangirl Stitches

Comment by Ros | April 2, 2017 |

I read many of Christie's mysteries 20 or so years ago and remember so few, I'm afraid. I don't know if I read this one or not. I do know that I haven't watched the mini-series, but I probably would want to eventually when I read the book (again?). I am glad you found things to like about both, Stacy!

Comment by Literary Feline | April 3, 2017 |

I read this rather recently (for classics club and/or challenge) and thought somebody told me that the visuals of this movie are terrific! As in really good looking characters- do I have it confused with something else? (Yep,still haven't watched)

Comment by Care | April 8, 2017 |

The characters were VERY easy to watch 🙂

Comment by stacybuckeye | April 8, 2017 |

[…] book vs. movie polls you can vote on (Me Before You) (And Then There Were None) (Still Alice) (The Blind Side) (The Fault in Our Stars) (The Hound of the Baskervilles) (Gone […]

Pingback by N- Book Vs. Movie – Northanger Abbey « Stacy's Books | April 17, 2017 |
Top Posts

Recent Comments

Blog Stats

Archives

Pages
Pinterest

Goodreads

What Jane Austen heroine are you?