Blogging From A-Z.  It's been a few years since I gave this challenge a try and I'm excited to give it a go with a movie twist.
This is a semi-regular feature where I talk about which was better, the book or the movie.  Most of the time I don't know which will come out on top until I've worked my way through some of the criteria, and this is one of those times.  Let's see how it all pans out.
I listened to the 1939 novel a few years ago (interestingly narrated by Dan Stevens who I just saw today onscreen as a Beast in some fairy tale movie I may write about on Monday) and spent the last several evenings watching the most recent adaptation, the 2015 BBC mini-series.
The Story/Plot  It's the late 1930's and eight people are invited to a secluded island off the English coast.  Upon arrival they are greeted by two servants and the group quickly realizes that no one has actually met the hosts and the servants don't know when to expect them.  After dinner a record is played accusing each of them of horrendous crimes and the tension mounts as the murdering begins.
While being faithful to the spirit of the novel, the mini-series took great liberties in modernizing it for today's audience.  They added drugs, sex and swearing just to liven up the screen.  I don't think it really changed a whole lot, just added some nuance that wasn't there, so no harm, no foul.   Thumbs up…tie
The Visual Most movies have an advantage in this category and this definitely true here.  The island, the house, the weather of storms and fog all gave this a melodramatic, spooky feel.  Christie also accomplished this with her writing, but I do think the screen lit up the story.   Thumbs up…the mini-series.
Characters vs. Actors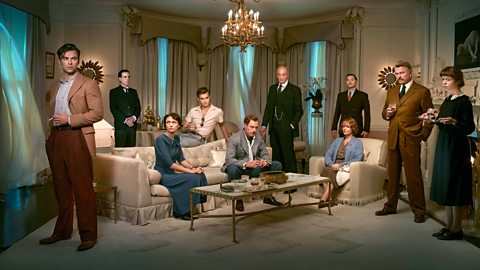 The cast was excellent and there is no fault to be found there, BUT in telling each of their back stories as the story progressed took some of the intrigue away.  And that's before you realize that the characters in the mini-series committed more horrifying crimes than those in the book.
I liked seeing Sam Neill and Toby Stephens as well as Kili from the Hobbit movies, and it was nice to see more evolved characters, but sympathy was lost along the way.   Thumbs up…the book.
The Ending The end result was the same but near the end there were a few changes made that were understandable but not preferable.    Thumbs up…the book.
And the winner is… the book.  This is the world's bestselling mystery novel and #7 of all novels, so it begs to be read.
Now it's your turn to vote
Other book vs. movie polls you can vote on: (We Have Always Lived in the Castle) (Good Morning, Midnight/ The Midnight Sky) (Before I Go To Sleep) (The Little Prince) (Charlie St. Cloud) (Far From the Madding Crowd) (The Girl on the Train) (Tuck Everlasting)  (Northanger Abbey) (Me Before You) (And Then There Were None) (Still Alice) (The Blind Side) (The Fault in Our Stars) (The Hound of the Baskervilles) (Gone Girl) (Jack Reacher) (Ender's Game) (Carrie, the original) (Under the Tuscan Sun) (The Secret Life of Bees) (The Shining, the original)